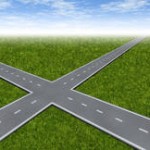 Last time we talked about the 1st step to achieving extraordinary success – which was you've got to "Dare to Dream" and what it meant to be crystal clear about what you want to have, be or do. It was like the start of creating your own "master planned community" in which you can thrive. The 2nd step to achieving your dream is to Determine to Decide.
Webster's Dictionary defines "decide" as to determine or resolve. Also to determine with resolve. It's root word – decidere – means literally to "cut off," as in alternatives or options.
One of the best examples of this was when Julius Caesar decided to invade Egypt.  When his ships landed, and to make sure his men weren't overcome with fear of the numerous enemy and attempt to turn back, he ordered his ships burned in the harbor.  They would go forward and conquer or go forward and die trying, but go forward they must.  All means of retreat had been cut off and there was no going back.
Here's a question to consider. How long does it take to MAKE a significant change? Really, it takes just a moment. What takes a long time is to prepare to change, and to "try" to build in wiggle room, loopholes or escape hatches – "just in case" it doesn't work out.  But once retreat is cut off, once a committed decision is made – it's done – that's it!
There is a HUGE difference between a committed, determined decision and a wavering wish. Rewind your life's video to a time when you were absolutely committed to having, doing, or being something – as opposed to being willing to accept something IF it all worked out. WHAT was different then? What felt different, and what did you consistently do differently? You KNOW your life would be positively different if each day you woke up and your dream didn't vanish with your sleep because you were committed to it!
A committed decision helps you focus, tap into resources and energy, and SET IN MOTION those things you need to achieve your dreams.  Like a snowball rolling downhill, it will gather momentum. To realize a dream you have never before attained, you MUST decide to do things you have never before done.
Abraham Lincoln is quoted as saying that "people are just as happy as they make up their minds to be." I'd paraphrase that to "people are just as successful as they make up their minds to be." In working with numerous clients and studying this issue for many years, I've learned a major reason that many people aren't successful is simply because they haven't yet made up their mind to be successful. They haven't made a committed decision – one from which there is no turning back.
Action Steps
First, is it time for you to confront YOUR dream? If it is, go ahead — GO TOE TO TOE. LOOK IT IN THE EYE! DON'T BACK DOWN FROM YOUR DREAM. IMAGINE WHAT IT WILL BE LIKE TO ACHIEVE IT AND STEP INTO YOUR GREATNESS!
Second, do you continually struggle with success in a certain area?  Be honest and identify the biggest obstacle that is holding you back, slowing you down or stopping you.  Select 3 action steps you can take to start eliminating that – and get to it!
Third, burn your "ships" and cut off any retreat.  You'll find the path forward more enticing and you'll travel it much faster with greater success.
Until next time, here's to your success!
Larry H. Gassin