Have you spent any time and money on hiring a "branding" expert to help with your business and sales?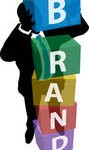 There is an old adage in the estate tax planning field – "if you don't provide your own trust and will, when you die the state will provide one for you" — but you probably won't like it.
The same thing is true with regard to your business name, reputation, image, and appeal. If you don't consciously "brand" yourself – or watch what "brand" you demonstrate you are – others in the marketplace — your customers and prospects — will do it for you. Not only might you not like it, but it might cost you plenty: lost referrals, lost business from existing customers and worse – lost customers!
I'm not suggesting you need to go out and hire a "branding" consultant. I am suggesting you be aware that de facto "branding" is happening EVERY day and with EVERY customer interaction. YOU need to define and design your proactive responses so you don't have to RE-act and make things worse.
If you're absolutely clear on your company's vision, values, mission, goals and the strategies to achieve them – that will form the foundation of any "branding" you would pay for. These can be simply incorporated into the structured way you do business and approach customers and their referrals. (If you're not clear on these key aspects of your business, perhaps you should consider working with and being supported by a professional business coach).
How have you branded yourself — or let others brand you? What is your market's perception of your position and place, your professionalism and competence, the quality of your services or products, of how easy it is to do business with you, of your character and integrity?
For example, if you sell specialty printing items, are you known as that "predominantly pesky persistently pushy printer of promotional products"? Or are you warmly welcomed as that "marvelously magical mastermind of money-making marketing materials"?
Perhaps you are a banking officer. Are you perceived as a "classically conservative cantankerously crusty critical curmudgeon of cash" that causes clients to cringe when they approach for help? Or does your bio read "blazingly brilliant blisteringly bright business-building banker" who breeds loyalty and referrals from clients?
Whether you're a business owner, executive, attorney, CPA, sales professional, contractor, consultant, school principal, director of customer service, or ______(fill in your blank), every day in every interaction your "brand" is being created and it absolutely affects your opportunities and success.
There's a choice to make. It's up to you to choose who makes it!
ACTION STEPS
Here are two action steps you can take to help control "brand you."
First, pay close attention to how you interact with customers, new prospects and everyone you come in contact with. Notice your "responses" and how they are received and perceived by others. Are you being defensive or confident and assured? This will help you recognize that defacto "branding" is taking place continually and how effective you're being. It will also help you recognize how you have branded yourself in your own mind. You can't consistently sell yourself in a way that is inconsistent with the brand you think you are.
Next, go out on a limb and survey some of your "best" and "worst" customers. Find out how they have branded you and why. Ask what brand they need you to be and what are some steps you could take to "build" that brand. It may feel a bit risky out on that limb, but remember, out on the branches is where the fruit is.
Until next time,
Larry Gassin