I hope you're doing well and are set for a great Thanksgiving and holiday season.  As a member of The Winner's Edge community, I want to express my gratitude for the difference you make for your clients, the business community and for me.  I consider it a privilege as well as a responsibility, to have your continuing interest in the community and seek to periodically bring you ideas, principles and tools that will help you grow your business with more speed, more certainty and more ease.  In fact, over the next 2 – 3 months, I'll have some complimentary programs whose specific purpose is to help make it easier and more straightforward for the members of our community to attract and connect with more clients and referrals.  I think you'll find huge value in them and will let you know when the schedule is finalized, so keep a lookout for the notice.
In the mean time, I want to share the thought below that I came across and hope it will help you and your loved ones have an even better Thanksgiving.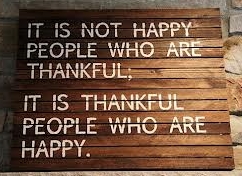 Until next time, with sincere gratitude for you, Happy Thanksgiving and here's to your increasing success!
Larry